SCP/INTERSA GROUP,  authorized distributor of Schaltbau. We are pleased to announce that for the since 2015 on market existing Multipole Disconnector for Railway Vehicles: Disconnecting Switches, Earthing Switches, Disconnector with Earthing Switches and Change-Over-Switches" of SPII S.p.A from now on detailed sales documents will be available as follows: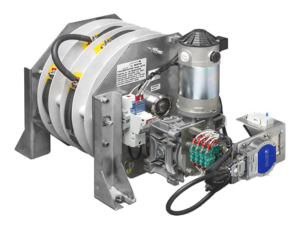 – Catalogue F184
– Presentation
– Reference list
The documents in English language are available for download at:
Applications of Multipole Disconnectors:
The Multipole Disconnectors with the functions disconnecting, earthing and disconnecting as well as change-over-switching are mainly used in rail vehicles.
They are used in traction and auxiliary inverters, as well as in all circuits in the voltage range of 750VDC up to 3kVDC, where they were used as DC-Link, transformer configurator switches, auxiliary disconnectors and switches, disconnectors and earthing of train busbars and other high
voltage circuits and much more.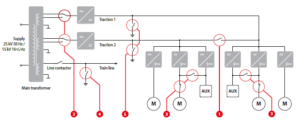 Features and technical data
Modular and compact design 

Standard versions and customized version 

Function:                
–   Disconnector            
–   Earthing Switch            
–   Disconnector and Earthing switch combined            
–   Change-Over-Switch  
 –   Manual           
 –   Electric (Motor/Gear-Unit)           
 –   Electric (linear motor)
Digital encoder 24V for electric driven version (Motor/Gear-Unit)  

Main contacts / Switching chambers:             
 -NC, NO, COS   –  assembly for each chamber individual              
-Nominal voltage 600VDC up to 3kVDC;           
-Thermal current 500A per switching chamber – parallel circuit possible 
 HV- detection and indication by 3kV LEDs 

Rated impulse current up to 50kA/25ms  

Switching without load         
–Forced switching activation by spring under construction
Quantity of switching chambers up to 10 units  

Control voltage for electric drive units: 24VDC up to 110VDC

Up to 4 switching positions 

Different and customized key locking system (Key locks, padlocks) 

Auxiliary contacts available 

Mechanical endurance up to 125.000 cycles (with maintance) 

Overvoltage (OV) class: OV1, OV2, OV3

Pollution Degree (PD) category: PD1, PD2, PD3
Samples extract of possible customized variants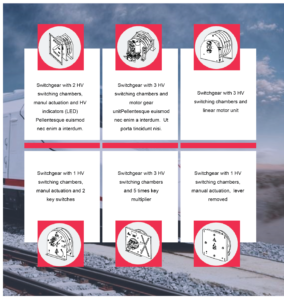 Examplified modularity of switching chambers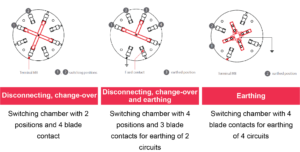 As an oficial distributor of Schaltbau in Spain and Portugal, SCp/Sintersa Group is able to supply Multipole DIsconnectors and a extense range of railway stuff, disconectors and other products. If you want more information do not hesitate to contac us by the next link.